PAGE IN PROGRESS. If anyone has any information or photos of these plaques, or know of additional plaques please get in touch by leaving a comment on this post or by email
City of Durham Parish Council Plaques
Daisy Edis, the pioneering female photographer – 142 Gilesgate
Mary Gibson, Dora Heslop and Winifred Hindmarch, the three first female graduates of Durham University – Chapel, St. Hild and St. Bede's College
Former site of Harrison & Harrison, organ builders – Harrison House, Hawthorn Terrace
The Market Hall, established in 1851 by an Act of Parliament, and one of very few privately owned markets in the UK – outside the Market Hall
The Railway Cottages, part of the former Durham Elvet Railway Station – Green Lane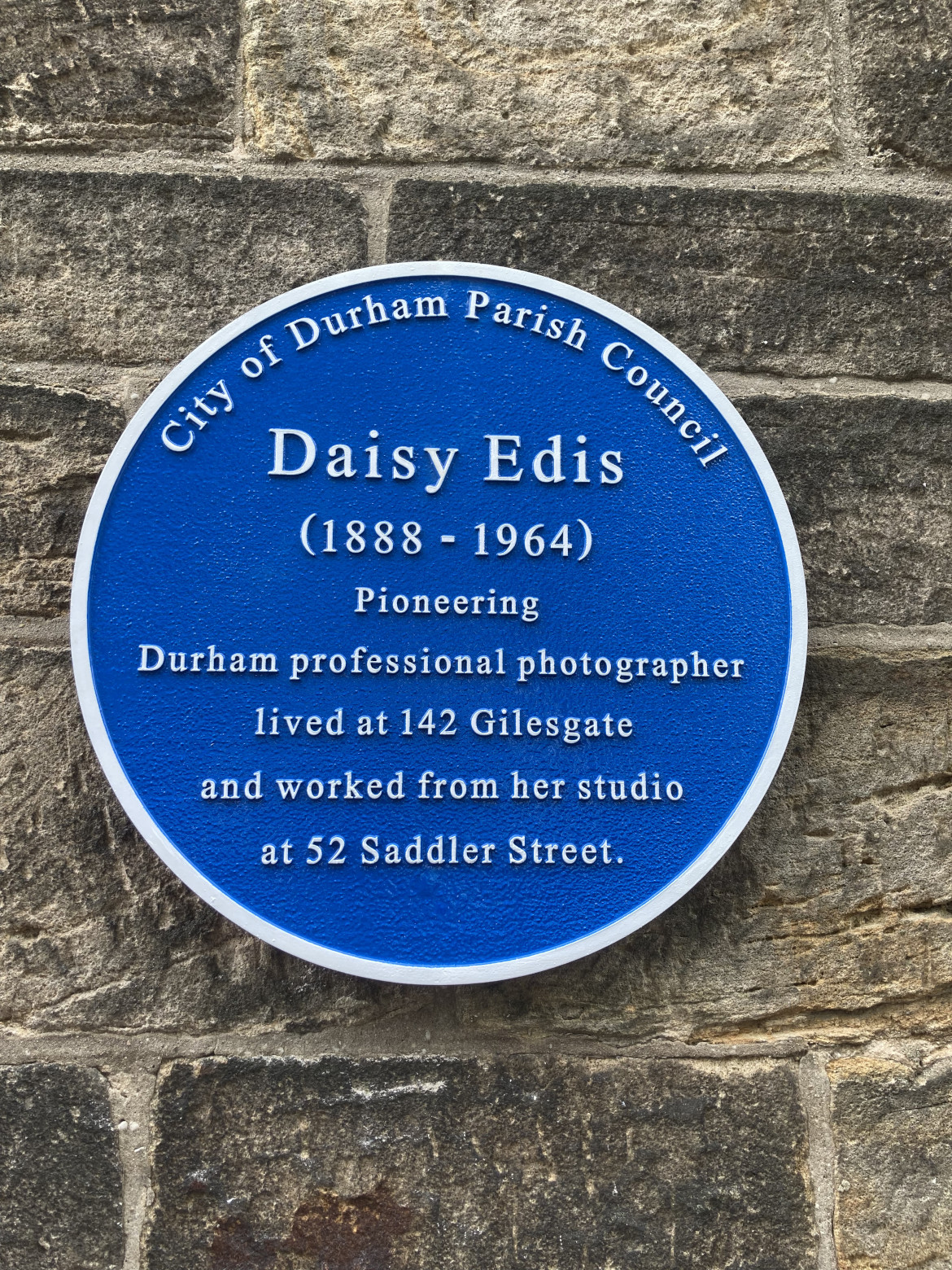 City of Durham Trust Plaques
James Finlay Weir Johnston (1796-1855), agricultural chemist and mineralogist, founded a grammar school in Durham in 1825, which later merged with other local schools to form Durham Johnston Comprehensive School – 56 Claypath
Sir Ove Arup (1895-1988), structural engineer and architect, designer of Kingsgate Bridge (1963), and structural engineer and architectural advisor for Dunelm House (1965) – Dunelm House, New Elvet
Drury Lane, site of a theatre 1771-1791 – Saddler Street
Neptune, originally erected in 1729, in the centre of the Market Place on a contemporary stone pant (public water fountain / wellhead) – Market Place
Clayport, site of the gate in the city wall, removed 1791 – plaque now missing. Image downloaded from the Open Plaques website
Former Chapel of St Andrew, one of the chapels at the ends of the bridge in the 13th century – Elvet Bridge
Chapel Passage, entrance to a 'discrete' Catholic chapel before Catholic Emancipation which was replaced by St Cuthbert's Church in 1827 – 33 Old Elvet – ??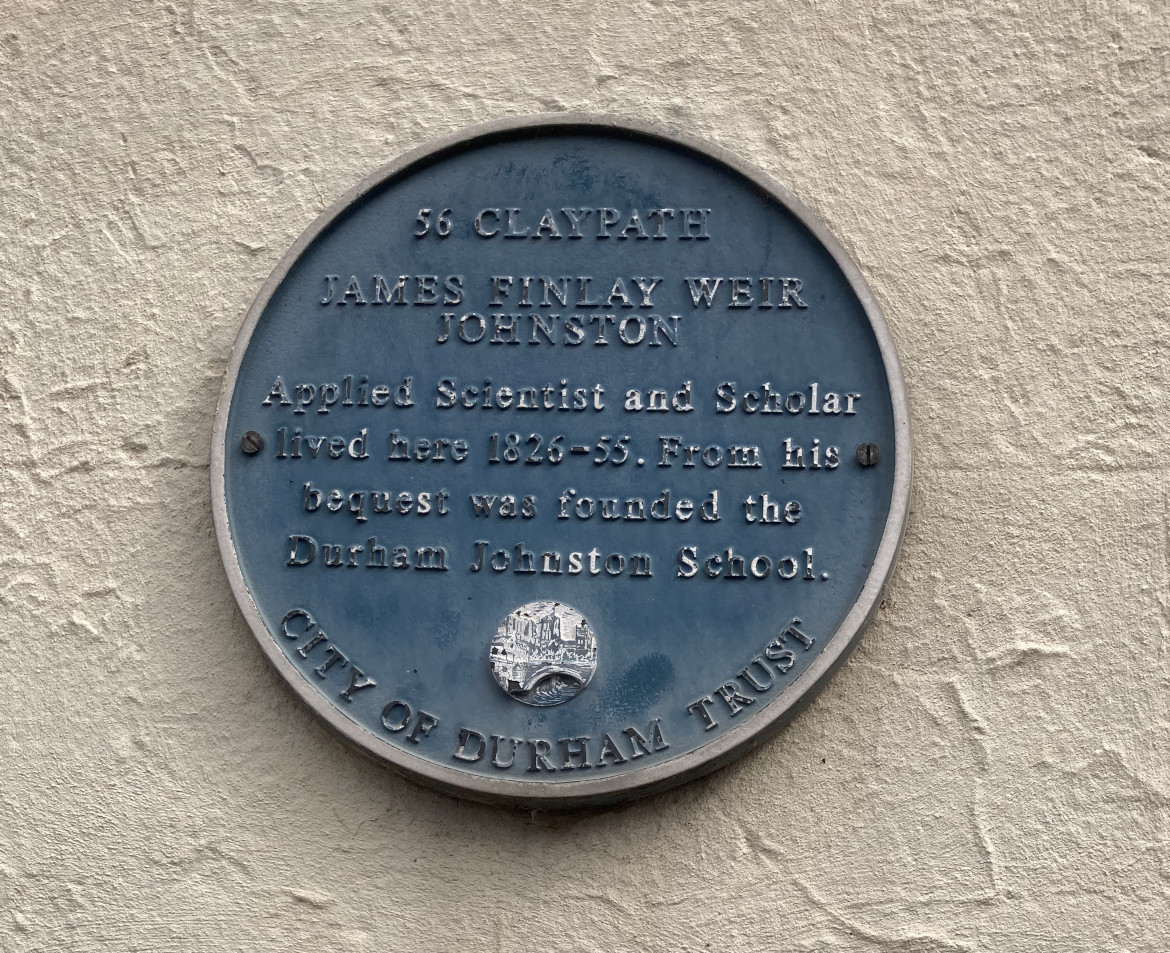 Jubilee Plaques, Durham Rotary
Rotary Durham, with negotiations with members of the Civic Trust, historians etc, set up these plaques as part of their 50th Jubilee celebrations. Plaques bear the City Cross at the top and the Rotary Wheel at the bottom with the dates 1923 to 1973. See post on the Rotary Durham Website. A walk leaflet was produced. Is it still available?
Site of house of John Gully MP (1783 – 1863), MP, prize fighter, racehorse and colliery owner, lived in No 7 North Bailey, the Principal's House, Hatfield College, named after Dr Frank Byron Jevons, Principal and then Master from 1897 to 1922. Demolished in 1966, replaced by new building 1968 called Jevons House – Bailey
John Meade Falkner (1858-1932), English novelist and poet, chairman of Armstrong Whitworth during World War I, Honorary Reader in paleography, University of Durham, and Honorary Librarian, Dean and Chapter Library – Divinity House (now the University Music School), Windy Gap, Palace Green
Site of House of Sir John Duck (1632-1691), Durham's Dick Whittington, Mayor of Durham 1680 – 39 Silver Street
Site of the fifteenth century town house of the Neville family, demolished in 1851 – over entrance to Market, plaque missing
Moatside Lane, medieval pilgrims' route to the Cathedral – Silver Street
Bishop Cosin's Almshouses 1666, replacing Bishop Langley's song and grammar schools 1414 – Almshouses, Palace Green
Cathedral Grammar School, 1661 to 1844, converted into the University Music School – Music School, Palace Green
Bishop Cosin's Library 1669, entrusted to the University 1935 – University Library, Palace Green
Former Exchequer and Chancery of the Palatinate built for Bishop Neville (1438-57) – University Library, Palace Green
Site of the North Gate between Bailey and City rebuilt 1420, removed 1820 former County Gaol – Saddler Street
Elvet Bridge, built 1160 for Bishop du Puiset, widened 1805, rebuilt 1832. Gaol 1632 – 1819 beneath – plaque missing
Tithe Barn of Elvethall Manor, held by the Cathedral Monastery, late Mediaeval – lane off Hallgarth Street, plaque not accessible to the public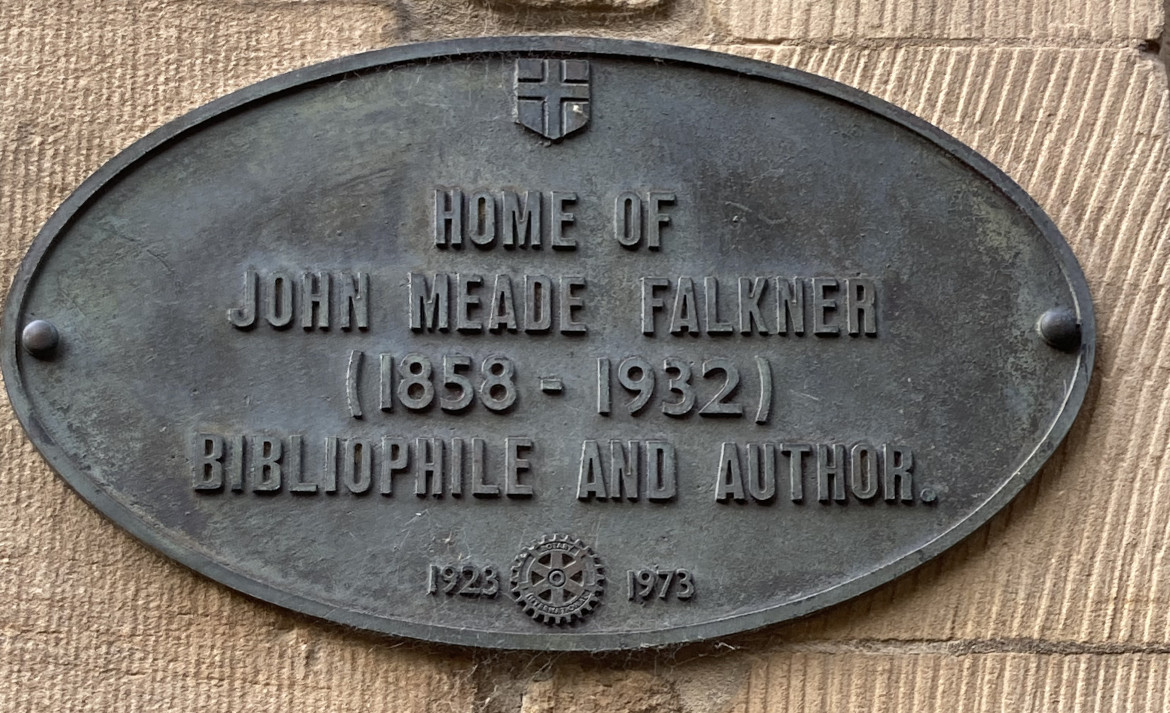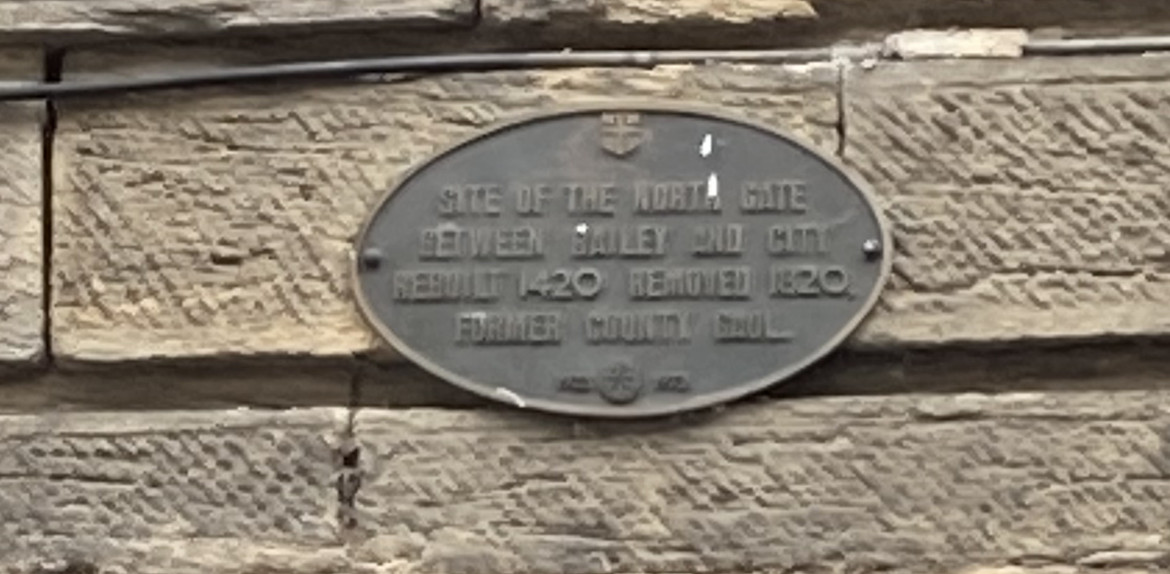 Other organisations' plaques
Ruth First (1925-1982), anti-apartheid activist and Durham University lecturer – Ruth First House, Providence Row
Dame Elizabeth Bowes, (1651 to 1736), ancestor of Queen Elizabeth the Queen Mother – Bowes House, St John's College, Bailey
The Revd William Greenwell (1820-1918), Antiquarian & Minor Canon – 27 North Bailey
Statue of Charles William Vane Tempest Stewart, third Marquis of Londonderry (1778-1854), soldier, politician, mill owner and landowner, statue unveiled in 1861 – Market Place
Framwellgate Bridge – original bridge built by Bishop Flambard (1099-1128). Present bridge rebuilt by Bishop Langley in the early 15th century, widened in the early 19th century
Framwellgate Panthead – ancient wellhead / pant to access a spring given to the inhabitants of the City by Thomas Billingham in 1450
Durham Railway Station
Kingsgate Bridge
Prebends Bridge – built by George Nicholson for the Dean and Chapter 1772-1778. Restored 1955-1956
County Court House – on this site (University Library, Palace Green) 1588-1811. Rebuilt as Diocesan Registry 1822. Passed to Union Society 1935 and to University Library 1978
Charley's Cross
Neville's Cross