Members will know that, a year ago, Trustees concluded that for the year 2000 no new building or restoration merited its architectural commendation. This year, in contrast, Trustees were faced with what proved an impossible task of trying to rank two excellent schemes. They thus made awards to both 'Cathedrals' in Court Lane, Durham, and Glenmoor Farm, Low Pittington.
Although two very different buildings, they share several features in common. They both presented a formidable challenge to their new, local owners, who responded with vigour and persistence to achieve the vision they held. Interaction with sensitive architects has achieved admirable examples of conservation, rather than preservation, with commendable new design blending with imaginative re-use of materials.
'Cathedrals', Court Lane
When Richard Lazenby purchased Durham's former police station, he acquired a prominent but neglected mid-Victorian building in an attractive quarter of the City's Conservation Area, between Bonomi's two fine early 19th century creations, the Crown Courts and St Cuthbert's church. Previous unsuitable applications for conversion or replacement of the police station did not receive planning permission, but Trustees welcomed the present application from the outset. Under the guidance of Mr Steve Major of Simons Design of Lincoln, its distinctive roof outline, brickwork and copings have been restored, with one former window converted into an apparently long-established entrance. The one obvious addition is the pavilion café.
While its relation to the main building is nicely signalled artstone columns and arch at its entrance, plus a slate roof, no attempt at imitation is attempted. Instead, the full, frameless glazing produces a vibrant piece of architecture adding interest or 'theatre' to the busy thoroughfare of Court Lane.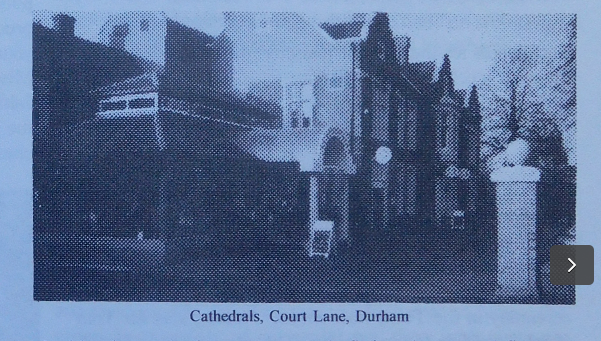 Inside, the workaday appearance befitting the ground-floor bar, with its glistening Czech brewing vessels of the microbrewery, gives way to a bistro on the first floor and, upwards, finally an appropriately-named 'fine-dine'. Also fine are the views of the cathedral from most of its rear windows on all three floors, thereby removing any query Trustees may have had over the naming of the project. The City has been enriched, therefore, in terms both of townscape and varied facilities offered.
Glenmoor, Low Pittington
Farm conversions are an increasing feature of the countryside around Durham, but that of Glenmoor, Pittington, is unique in Trustees' experience. When acquired by Mr John Parkin, both farmhouse and adjoining farm buildings were in poor condition, with no obvious intrinsic merit. There was little incentive, therefore, for faithful restoration based on existing design. On the other hand, salvaging of materials and respect for the original footprint of the buildings provided the springboard for rebuilding, in the owner's words, "with an underlying acceptance of the integrity and character of the site and community".
The vision in this instance was shared with a sympathetic architect, Mr Brian Iley of Brancepeth, and achieved on site over four years with the aid of Messrs Barry Atkinson and Clive Barker, quite apart from the considerable physical input from the owner himself. The careful use and mix of materials, together with detail of finish, has produced a robust, authentic design of rare quality. The interior exhibits similar qualities. In Trustees' opinion, the overall aim of the project – to create something that would look as if it had evolved over a period of years – has been fully realised.
Details published in Bulletin 50, February 2002