The 2018 Architectural Award was given to a significant building in the story of Durham which had undergone remarkable internal transformation. Old Shire Hall had stood empty since the University vacated the building in 2012, and a building without a use has no future. Fortunately, the International Hotel Group saw the potential of converting a structure built for administration into Hotel Indigo.
As a fiery redbrick Victorian extravaganza amid Georgian neighbours, its external appearance remains as incongruous as ever, but the internal interior re-design, part preservation, part conversion, is highly imaginative. Preservation includes the highly glazed decorated tiles on walls and ceiling, staircases of white Sicilian and black Frosterley marbles, as well as much stained glass. The undoubted highlights of the conversion are the oval former council chamber (now a restaurant) which is entered through a hexagonal rotunda (now a cocktail bar). The additional lighting fixtures and exploiting of a circular theme have resulted in two Dining room in former council chamber, Hotel Indigo quite special architectural spaces.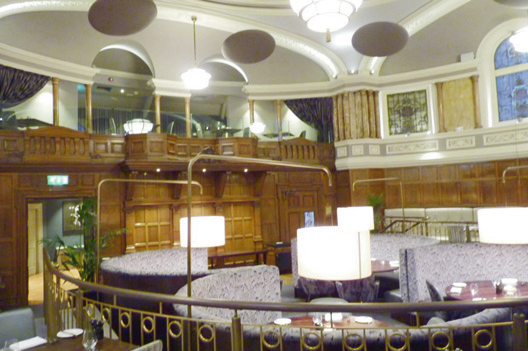 Overnight visitors will never stay in a more place-related hotel, for bedrooms are heavily themed through artefacts, furniture and furnishings, leaving no doubt that this is a city with a venerable cathedral and long-established university. It is unfortunate that the central main entrance, an imposing flight of steps with wrought iron grille, is no longer the main entry – and hence, heightened anticipation – for the hotel reception. Those with mobility problems would clearly find the steps difficult, quite apart from carriage of luggage for able guests. The hotel reception is at pavement level at the north end of the building, an entry which introduces arrivals to the adjacent coffee bar.
The architects responsible for the transformation are Howarth Litchfield of Durham, with Neil Turner being the overall director of the project and Kathryn Mason the interior designer.
See Bulletin 86, Spring 2019, for details of this building and other candidates for the award.