The City of Durham Trust supported the campaign to List Dunelm House – the 1960s Student Union building that accompanies Kingsgate Bridge in the centre of Durham City.
Dunelm House was first proposed for Listing in 1998 – as Alan Powers explains in his article for he Twentieth Century Society (C20): 'Building of the month January 2017 – Dunelm House, Durham'. Kingsgate Bridge was Listed at Grade I in 1998, and the Trust has consistently argued that both buildings have to be recognised as belonging together in terms of their architecture, national significance, and contribution to their setting. As a result of Historic England's recommendation, and campaigning led by The Twentieth Century Society, Dunelm House was granted Listed status at Grade II in July 2021 – 'Dunelm House including landing stage, steps and attached walls', City of Durham – 1477064,| Historic England, National Heritage List for England.
Brutalist architecture currently divides opinion, with strong feelings on both sides of the debate. The City of Durham Trust is committed to preserving all of Durham's architectural assets, as well as encouraging new architecture of the highest standards.
The issue of protecting Dunelm House came to the fore when Durham University applied for a Certificate of Immunity from Listing in 2016. The City of Durham Trust co-sponsored a conference in October 2017 with The Twentieth Century Society on 'Caring for Brutalism – Day Conference in Durham' held at Durham University, which explored the significance of the building and feasibility of its conservation. Many of the speakers at this conference subsequently wrote submissions for The Twentieth Century Society's appeal against the Secretary of State's decision to grant a Certificate of Immunity.
As part of formal consultation exercises with government, The City of Durham Trust wrote several lengthy submissions to the Listing Review Officer at the Department of Digital, Culture, Media and Sport – in November and December 2017, and again in December 2020 and January 2021. Citing Historic England's advice to List the building, the City of Durham Trust rebutted the case made for granting immunity from Listing, emphasising the feasibility of restoration and referring to the published 'Principles of Selection for Listing Buildings' as well as the 'Listed Buildings and Conservation Area Act'.
The Listing decision has been celebrated by The Twentieth Century Society – 'Listing Success for Durham's Magnificent Dunelm House' – and in the Architects Journal – 'At last: Dunelm House finally awarded Grade II listing'.
An original bronze bust of Sir Ove Arup, who was involved in the construction of Dunelm House and Kingsgate Bridge, was unfortunately stolen in 2006. Durham University and the The City of Durham Trust paid for a new sculpture which now stands at the entrance to Kingsgate Bridge, next to Dunelm House. The new bust is cast in resin and is based on the original 1987 sculpture by Diana Brandenburger. A picture of the original can be seen on the Art UK website.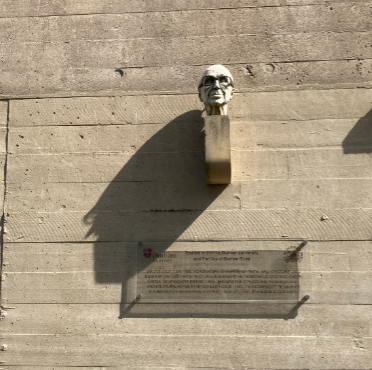 See also our news item on the Dunelm House listing.