Four very different buildings were seriously considered for this year's award. Each is a worthy addition to the architectural stock of the City. The one which was adjudged by Trustees to be the outright winner, the Science Learning Centre North East, responded best to a critical assessment of key factors – overall challenge, adaptation to site, unity of design, interplay of form and function and use and quality of materials and detailing.
The building is seen to best advantage from the footpath through the playing fields of Framwellgate School. From here a low, compact, predominantly whitefaced building is seen perched on the edge of a small rise at the edge of the field. The pavilion nature of its central glazed rotunda, capped by a smaller flat-topped version, gives it an almost maritime air, set as on a raised beach above a calm green sea. What could be a flag pole, however, proves to be a wind turbine – a marker of its science credentials. (It functions as a training and curriculum-updating conference venue for science teachers.) Appropriately, photo-voltaic cells, solar panels and even an electric car hook-up point are incorporated.
Inside, the flexibility of sound-proof dividers between laboratories is supplemented by equipment which is as mobile as conventional furniture. In contrast to specialist laboratories and seminar rooms, the light and spacious rotunda constitutes architectural space of the highest order. Allusion to its science pedigree is subtly suggested by a unique, interactive sculpture in the ceiling rotunda and, underfoot, by liqui-floor circles inserted in the laminate surface. To refer to this space as a café, because of the provision of drink-making facilities, is to grossly undersell its design quality.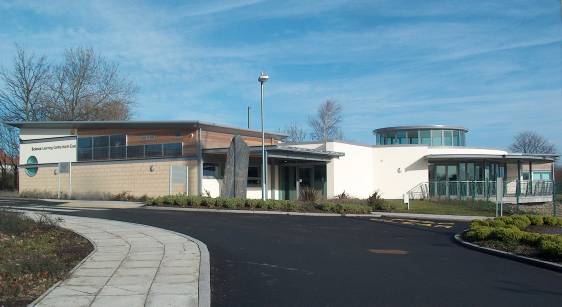 The Centre evolved through a 'design and build' contract. The initial conceptual drawings and sketches were by Dennis Findley and Stuart Fisher in the Building and Design section of Corporate Services in County Hall. Critically, these were then given definitive form and detail by Neil Turner of the Howarth-Litchfield Partnership of Durham. The contractors were Surgo Construction, under the leadership of Brian Reston.
See Bulletin 62, February 2007, for details of this building and other candidates for the award.