The University's new Ogden Centre for Fundamental Physics was a clear winner of the Trust's architectural award for 2016. No building has made such a dramatic impact on the Durham scene since Dunelm House in the 1960s. Unconventional, angular, unpredictable – its striking form speaks of the exciting exploratory research by world-leading scientists within. There could hardly be a clearer example of the architectural aphorism of form following function.
The apparent unpredictability of the outline is unified by bands of timber cladding, which sweep from Little High Wood and run parallel to South Road. The genius of significant architecture begins in its choice of, or adaptation to, site. Here, the structure is uniquely adapted to its location: it would be out of place in any other location. It is perhaps no surprise that the interior eschews the conventional rectangular or repetition, yet there is remarkable coherence. Apart from a logical arrangement of staff rooms around the edge and meeting spaces and a conference centre in the middle, coherence comes from the hand of the architect being apparent throughout – in a unified colour scheme for surfaces, furniture and furnishings and, not least, in a series of patterned glazed screens tostaff rooms.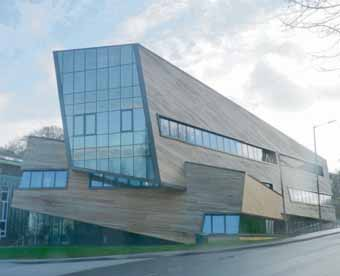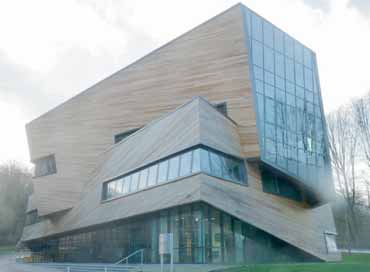 The design of this remarkable building is by the world-renowned architect, Daniel Libeskind, from his studio in New York, with liaison in England by Wendy James of Garbers and James. Arup provided the necessary complementary engineering. One concluding thought is to surmise that the genesis of the present structure long predates the University putting the building out to competition, for the architect was acquainted with the University science site from the time his son undertook postgraduate research here in the physics department.
See Bulletin 82, Spring 2017, for details of this building and other candidates for the award.